You can roll over an existing Leganto Reading list for use in other LEO Units, for example in units taught at different campuses or from a previous semester. If you were not a collaborator on the list to be rolled over you will need to contact your Senior Librarian to add you.
If you think that you (or one of your colleagues) will want to re-use a reading list, DO NOT DELETE the list at the end of the teaching period. Deleting the reading list will permanently remove it from Leganto, and it cannot be recovered. If you don't want the list showing up in your My Lists view, remove yourself as a collaborator instead.
To roll-over a reading list:
1. Start from the (new or rolled over) unit in LEO. Click on the Leganto link in the LEO unit to go to Leganto.
If your LEO unit does not yet have a Leganto link, add this link using the external tool.
---
2. On the 'Welcome to your course materials' page in Leganto, make sure you can see details of your specific unit under 'You are about to create a reading list for the following course". Then select the Roll over option.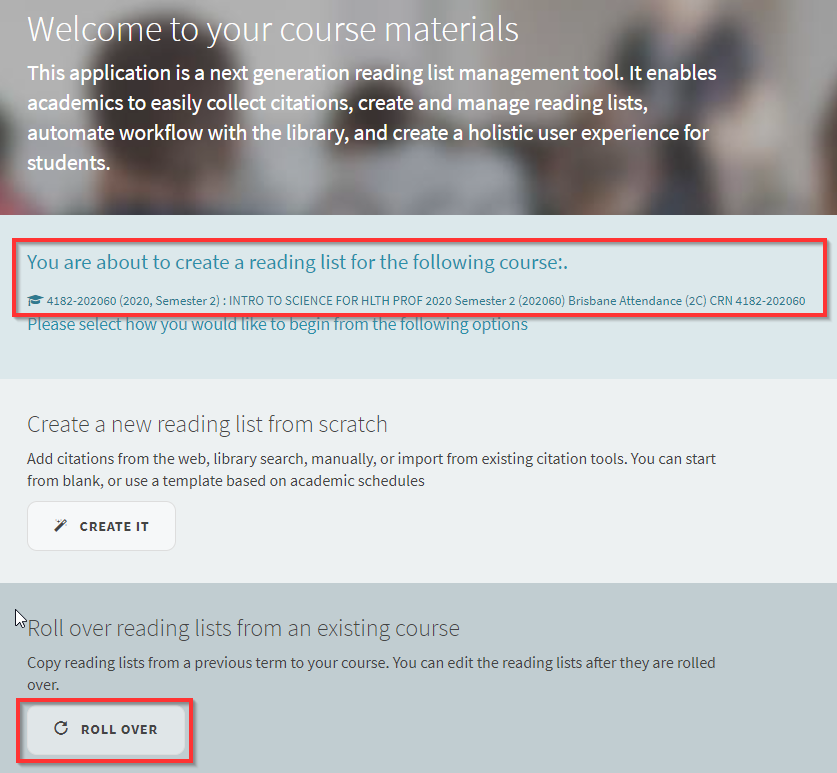 If you don't see information about your unit, and the roll over button does not appear on the page, go to LEO and check that your unit has a correct Banner code entered in the unit ID field in the Unit Administration settings.
---
3. Locate and select the existing reading list you want to roll over to your unit. If searching by unit code include an underscore between code elements (e.g. EXSC_296) .
NOTE: If a reading list for the unit does not display, it means you don't have collaborator access to the list, or there is no reading list for this unit. Contact your Senior Librarian for assistance.
---
4. A 'Roll over from an existing course' pop up window will display once you have selected the list.
Enter the name of the new reading list in the Reading List name field, starting with the unit code (e.g. MKTG601 Brand Marketing 2021 Semester 1 Online). Make sure any old course information and the words 'Rolled Over' are removed from the title.
---
5. Click 'Roll Over'
---
6. Update the readings on the rolled over list (as required), adding any notes or tags that you require.
---
7. And lastly, don't forget to finalise your list by sending it to the Library for review, and publishing the list so it can be viewed by your students.